Which Speed Wealth System product is right for you? There are many you can access, but knowing which product Level to Subscribe to can be a great benefit. In the past I have invested in products that were not advanced enough for me. Not every training course will be a perfect match for you. In this article I am going to give the details of Speed Wealth System Course training series
The Speed Wealth System Product is from the Internet Lifestyle Network company. This is an online marketing company that provides training for marketers. The courses include many hours of training from extremely successful marketers Vincent Ortega and Mark Hoverson. These well known marketers have built extraordinary financial business from selling different products over the Internet. The training course they created is the Speed Wealth System. Its based on knowledge the two have gain over the years from their success.
In the Speed Wealth System each step is explained on how to achieve success online. This was created for people who may have been burnt out from trying the latest software tools to earn money online with little success. I applaud them for this, because its not the software that earns money its the system you follow. Although they do have converting landing pages and sales driven funnel, the focus is on what you do to drive traffic with no paid strategies. For example using FaceBook as a tool to find others that are in need of the same training.
The Blueprint they give you can be passed to other team members, followed and duplicated by others. This is the secret to the sauce. This product is built upon duplication and how to achieve it. The Goal is to keep focus on daily activities that work and removing the guessing from how to achieve success with your business. Building the right skills and using the correct techniques will lead to money overtime. Their 30 day guarantee represents this belief. It says "If you don't make a sale in 30 days they will pay you $100".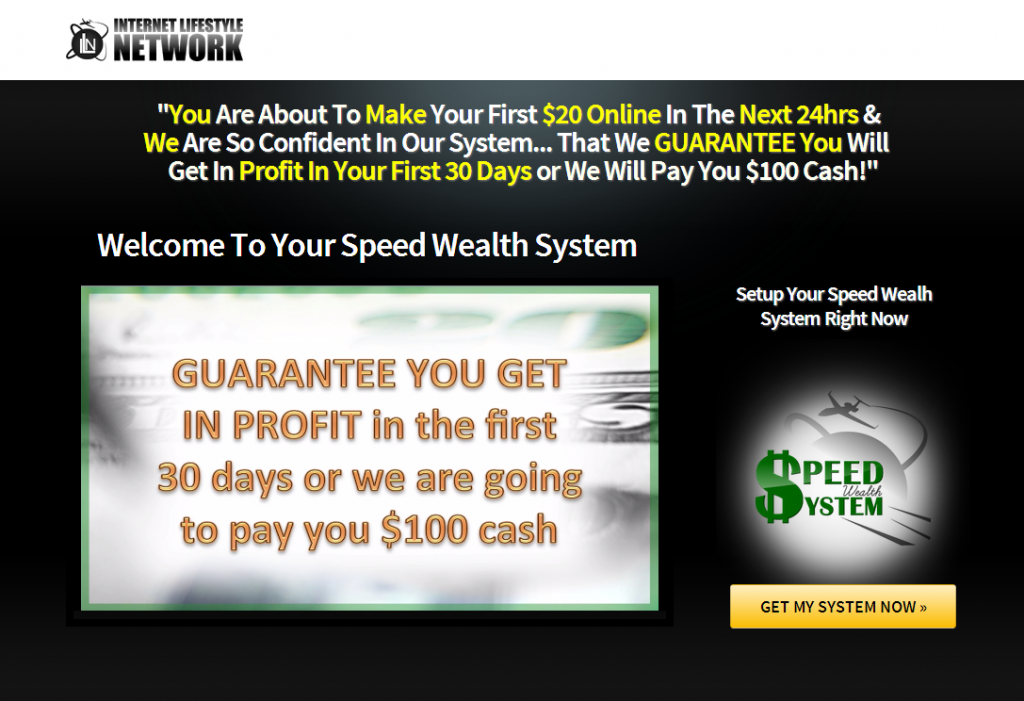 This is the level of belief the owners have in their system. So far its worked very well for them as 1000's of people have been able to earn their first sale within 30 days. The Speed Wealth System has 3 subscription levels. Apprentice, Professional, Exectuive CEO.
If you need to get a deeper understanding of what each course contains.
Be sure to check the Course Review For the Speed Wealth System here.
You can access the course through the Internet Lifestyle Network University. This is online website that contains many hours of training and step by step instructions on how to apply the information to any business. Because this is a course and not separate product, you have to follow the sequence of course levels. Each lesson builds upon the previous.
For those on a limited budgets, its still very affordable. The initial cost is only $37. This gives you access to the Apprentice Level Courses. After following this course you should at earn $20 commission as provided by the guarantee. The next level is the Professional Level Courses. Here you will get incredible information how to on close sales. 8 figure earner Mark Hoverson brings this valuable information to you, that is not available on the Internet. Using this information allows you to continue having the success when you combine it with the Apprentice Lessons.
The third is the Execute Course. This course is for those that are working towards building a 7 figure income with advance techniques in showing and teaching others how to earn money. It provides information on leadership, how to see opportunities, building large organizations, and many other concepts needed to reach 7 figures. This is part Mark Hoverson's highly acclaimed Solomon's CEO training, where many top earners received this valuable information and have gone on to reach higher levels.
If you would like to get additional information or even join you can do so here
.
T